HIGHER QUALITY - BETTER WELLNESS
Regular price
Sale price
$46.00 USD
Unit price
per
Sale
Sold out
Product Code: VTR10
Best Before: 26/04/2024
If you are in search of a supplement that gives you a noticeable difference, then try our Daily Multi. This original formula designed by TRUEVITS, offers a high-quality, easily absorbable essential vitamins and minerals, complemented by antioxidants and beneficial plant extracts to contribute to your everyday health and well-being.
Our specially formulated Daily Multi includes a full range of important B-vitamins, along with CoQ10 to optimise energy production by efficiently converting proteins, fats and carbohydrates you consume into energy for your body.
With a powerful blend of 13 high quality full-spectrum vitamins and minerals along with antioxidants, including Alpha Lipoic acid, French Marine Pine Bark extract, Co Q10, Natural Beta-Carotene, it efficiently scavenges harmful free radicals, providing protection against oxidative stress to empower your body's optimal functioning. 
60-day supply. £0.59 per day

Zero synthetic binders or fillers
Suitable for vegetarians
Halal and Kosher compliant according to manufacturer's GPM
Directions

DIRECTIONS FOR USE: As a food supplement take 1-2 capsules daily with food or as directed by a professional.
Instructions

WARNINGS:
Consult your doctor before use it if you are pregnant, breast feeding, taking medication or have a medical condition. This product contains Biotin which may interfere with some blood test results. Do not exceed the recommended daily intake. Food supplements should not be used as a substitute for a varied diet.

Store in a cool dry place, out of reach of children.
Share
View full details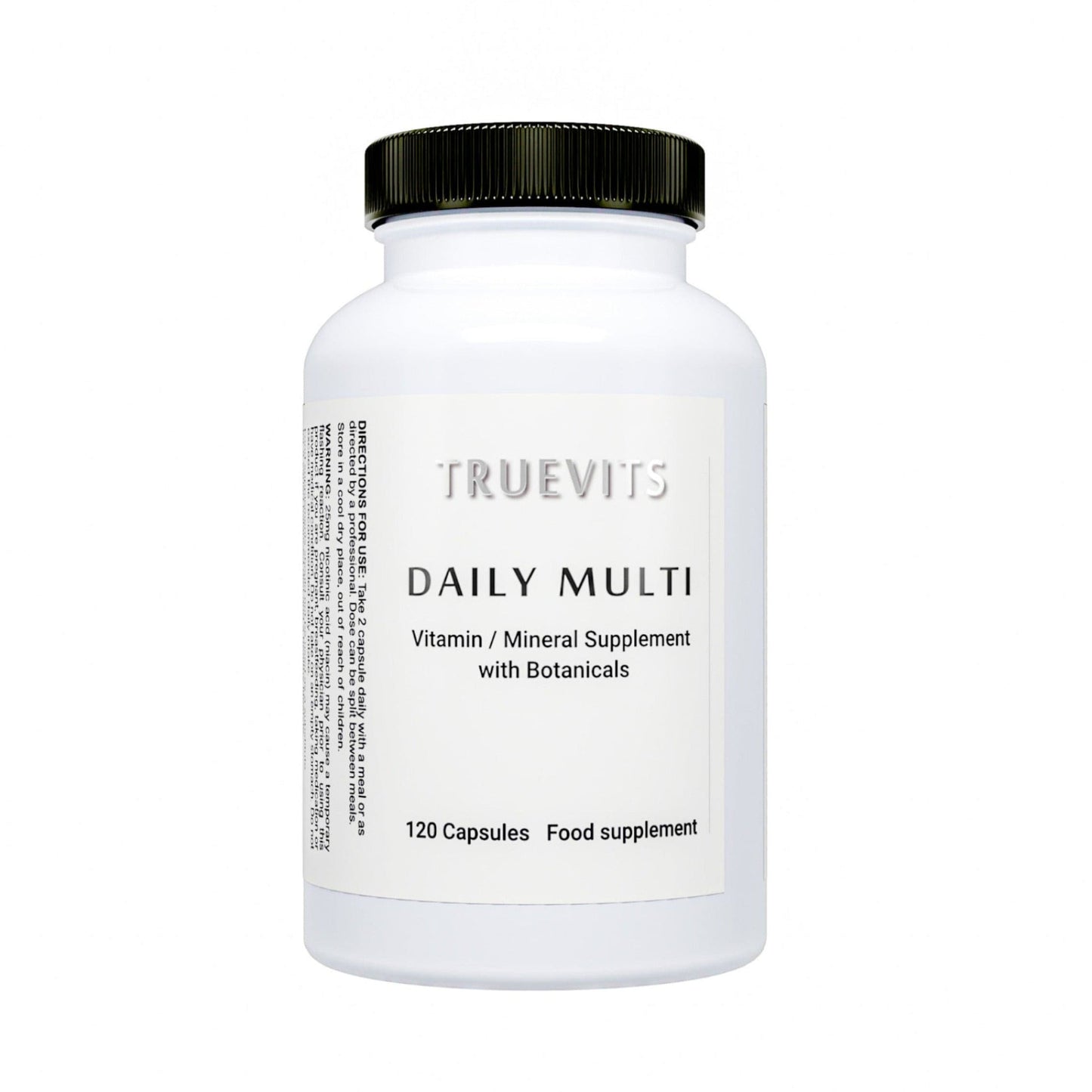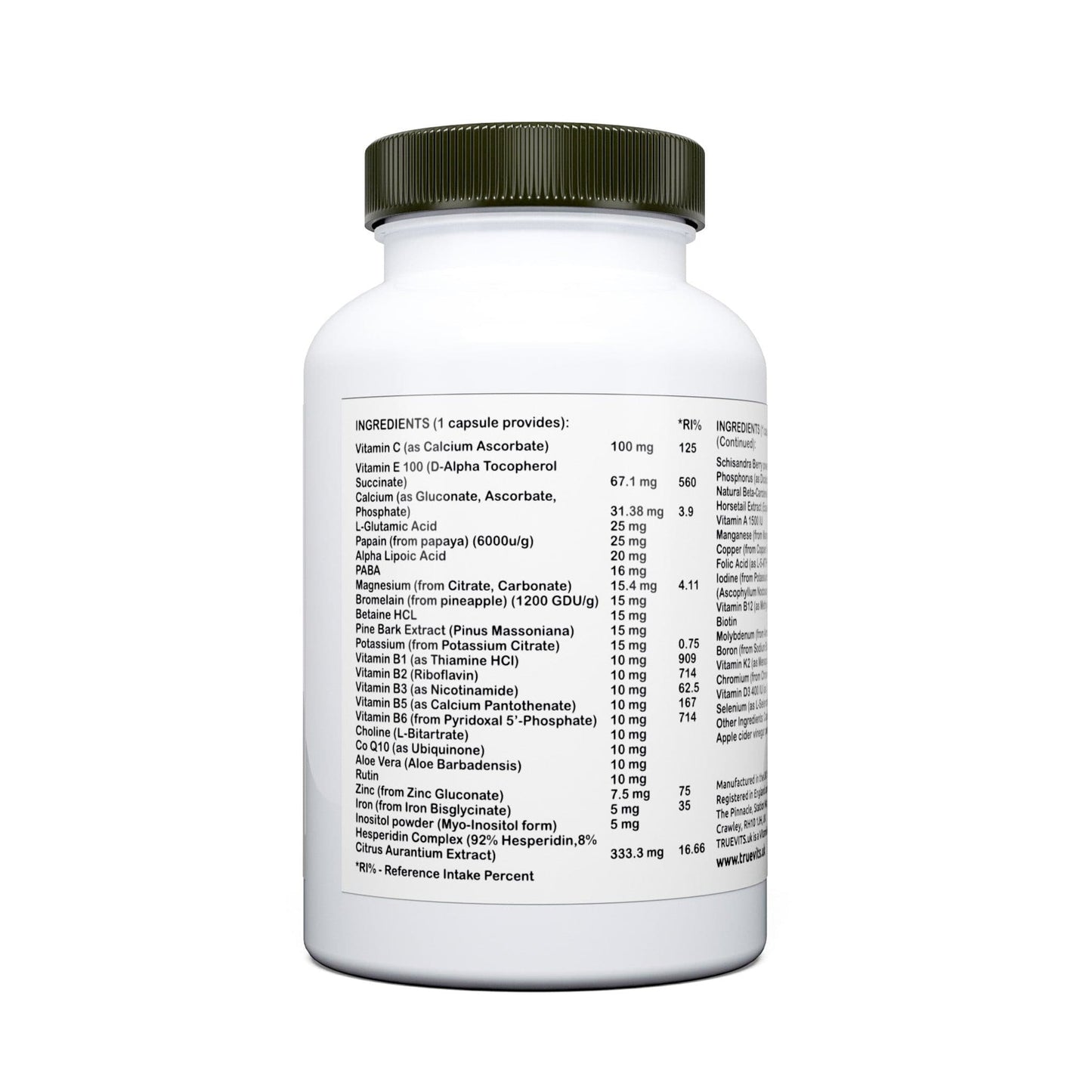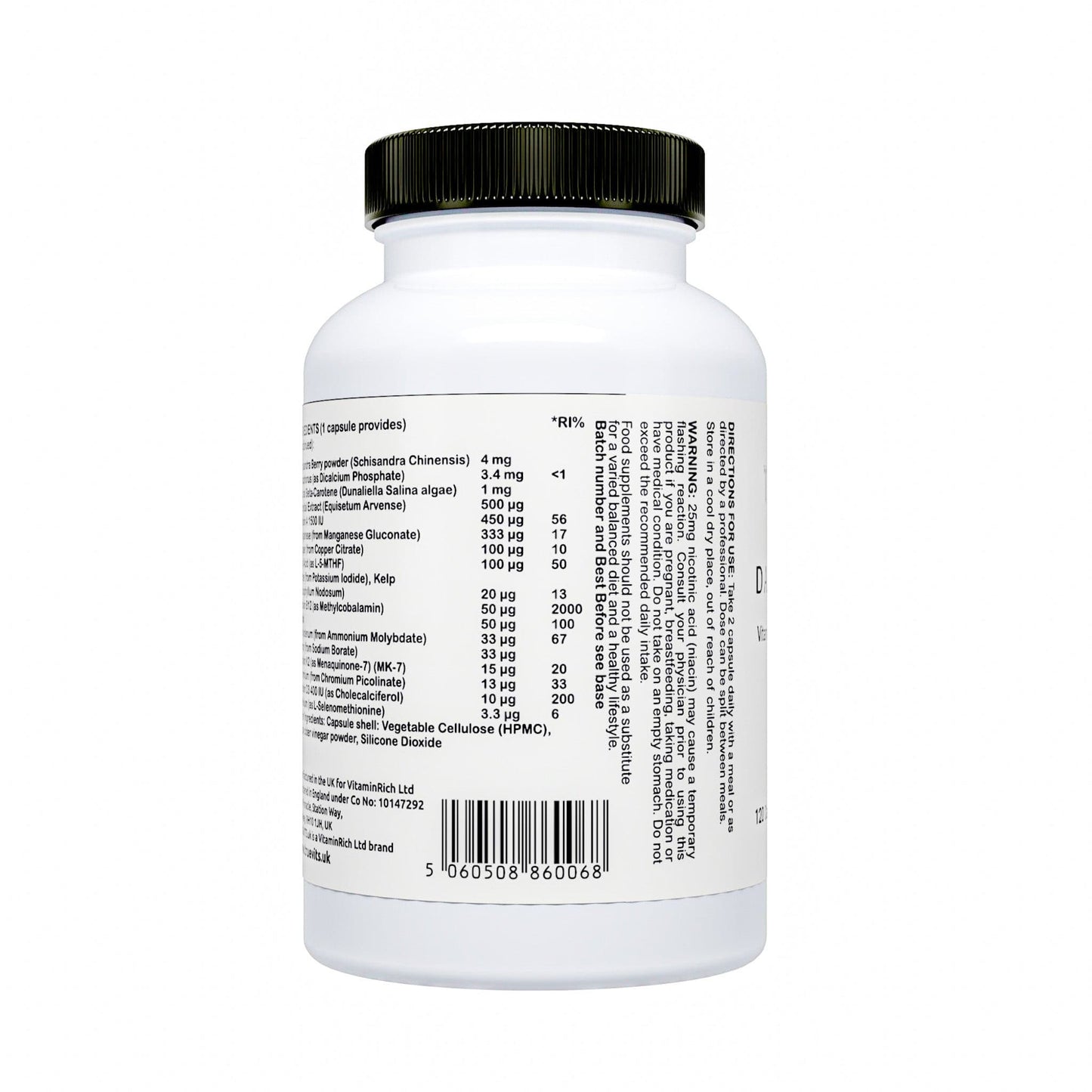 DAILY MULTI Vitamin / Mineral Supplement with Botanicals Formulated for Adults 30+
Comprehensive blend of essential nutrients with complementary Antioxidants and Botanicals

Synergistic solution: Provides bio-active form of B-vitamins, including Folate as L-5-MTHF, Vitamin B12 as Methylcobalamin, Vitamin B6 as P-5'-P

Better functioning: Features water-soluble naturally fermented CoQ10 and free form L-Glutamic acid

Overall wellness: Provides Phytonutrients Aloe Vera, Pine Bark extract, Papaya extract, Horsetail extract, Schisandra berry and more

Made in England in GMP Facility. Non-GMO
How to Use
In the Morning

Daily Multi is a caffeine-free energy supplement specially designed to tackle the day with vitality and focus.

Best with food

Food enhances the body's ability to utilise and benefit from nutrients.

2 capsules daily

Optimal intake 2 capsules daily. Split between meals if preferred.
What is Antioxidant?
Antioxidants are chemical substances with the capability to donate electrons to free radicals without transforming into electron-scavenging substance themselves.
Each antioxidant compound exhibits distinct chemical behaviours and biological properties, contributing uniquely to its role within the body's functions.
This is why we've incorporated a comprehensive array of diverse antioxidants into our Daily Multi formula to make an elaborative network of antioxidants.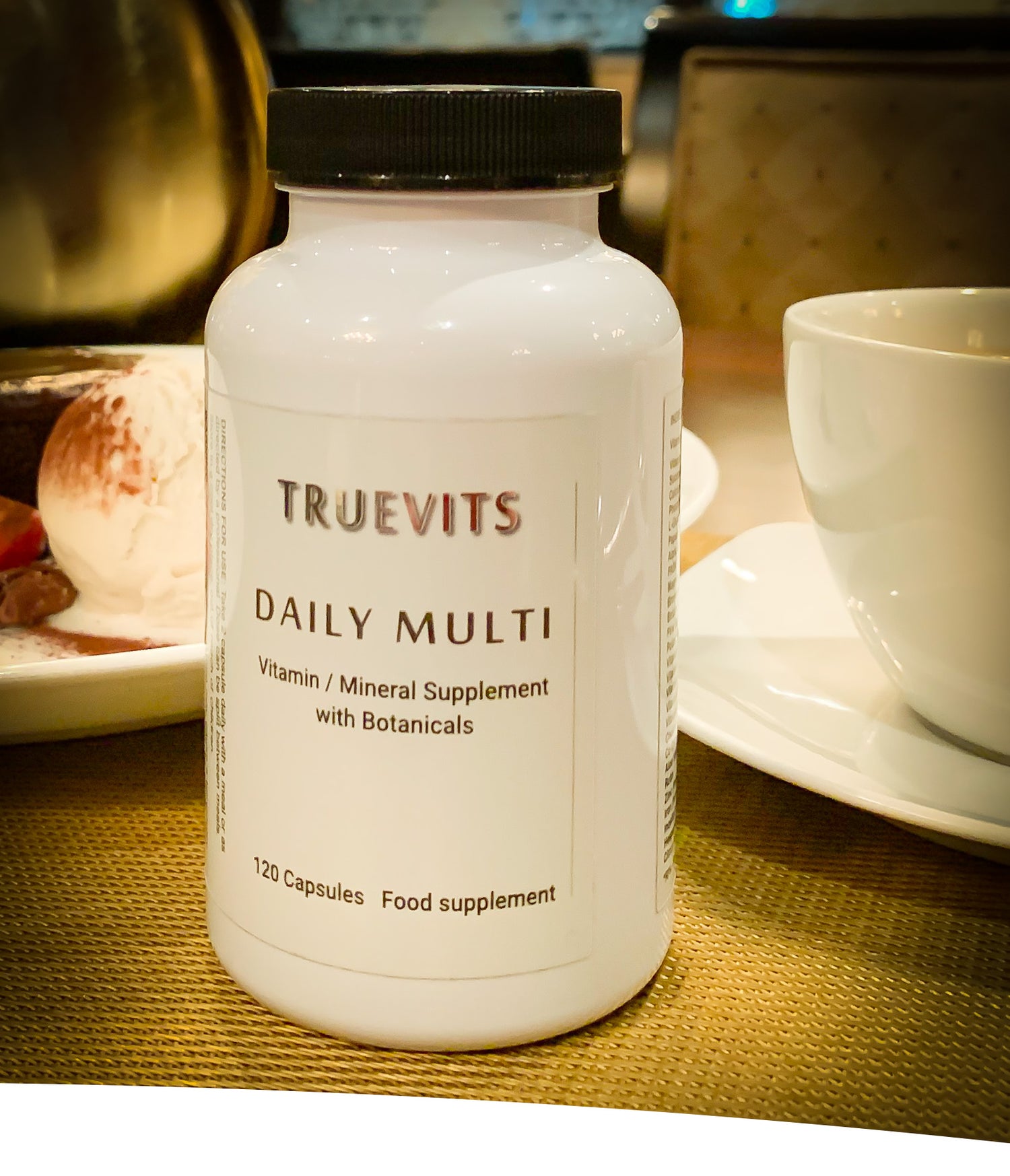 Get the most of each day
When you want to keep things simple – but you also want to boost your metabolism, reduce the signs of ageing, and bring extra energy to your day. Sounds like a tough challenge, but Daily Multi combines 44 components to deliver an addictive improvement to your everyday health.
DAILY MULTI - 120 capsules
Спасибо большое за подбор витаминов и отличные витамины! Они прям спасают мое тело при больших нагрузках. Другие витамины тело отказывалось принимать, а эти очень хорошо подходят. Спасибо!
Vitamins
Great product, definitely better results with these compared with most others I've tried, recommended!
The vits are fantastic... a noticeable defference.
Спасибо огромное за витамины. Я очень довольна. Почувствовала разницу.
MORE INFORMATION
INGREDIENTS SPOTLIGHT

| | |
| --- | --- |
| NUTRIENTS | BENEFITS |
| ESSENTIAL NUTRIENTS | |
| Complex B Vitamins including Choline and Inositol | Helps metabolise fats, carbohydrates and proteins. Contribute to a reduction of tiredness and fatigue. |
| 12 Macro- and Micro- Minerals | An adequate level of Minerals in balanced ratios contribute to the maintenance of cells, blood and hormones as well as of bone health. |
| Vitamin C with Rutin and Hesperidin Complex | Helps to maintain immune function, strong bones, gums and teeth. |
| Vitamins A D E K | These fat-soluble vitamins offer essential benefits to the human body, such as promote healthy vision. strengthen bones, boost the immune system, support reproductive health, aid in blood clotting. |
| COMPLEMENTARY  INGREDIENTS | |
| Alpha Lipoic Acid | Controls the effects of free radicals caused by excess oxidation and helps to promote healthy glycose metabolism. |
| Papain, Bromelain and Betain HCl | These three natural substances are known for their ability to support protein digestion in the body and reduce inflammatory. Bromelain, Papain and Betaine HCl have been carefully incorporated into our Daily Multi supplement formula to facilitate food digestion and nutrient absorption within the digestive system. |
| Pine Bark Extract (Pinus Massoniana) | This extract rich in Polyphenols, used in our Daily Multi formula as a potent natural antioxidant to protect from oxidative stress. |
| Glutamic Acid | The non-essential amino acid which is involved in formation of proteins. In the body it turns into Glutamate. |
| Coenzyme Q10 (Ubiquinone) | It is a vitamin-like substance that helps convert food into energy, also an effective antioxidant. |

 

Vitamin C, Vitamin E, Calcium (as Gluconate, Ascorbate, Phosphate), L-Glutamic acid, Papain, Alpha Lipoic acid, Vitamin B1, Vitamin B2, Vitamin B3, Vitamin B5, Vitamin B6, PABA, Inositol, Choline, Folate, Vitamin B12, Biotin, Magnesium (Citrate, Carbonate), Bromelain, Betaine, French Marine Pine bark extract, Potassium, Co Q10, Aloe Vera, Rutin, Zinc, Iron, Hesperidin complex, Schisandra berry powder, Phosphorus, Natural Beta-Carotene, Horsetail extract, Vitamin A, Manganese, Copper, Iodine (from Potassium Iodide) and Kelp, Molybdenum, Boron, Vitamin K, Chromium, Vitamin D3, Selenium, Apple Cider vinegar powder, Silicone Dioxide.
HIGHEST QUALITY OF INGREDIENTS GUARANTEED

We use potent, proven and clean ingredients to create effective vitamin products to supplement your diet.

+ NO ADDITIVES – NON-GMO – PLANT-BASED CAPSULES

+ DAIRY-FREE – SUGAR-FREE – GLUTEN-FREE

+ GMO FREE

+ Free from synthetic binders of fillers

+ Plant-based capsules

+ Gentle on stomach

+ Formulated with bioavailable nutrients

+ Clean manufacture

+ Recyclable packaging

Help yourself to better wellbeing: our vitamins are formulated for every body.
SHIPPING & RETURNS

Orders are processed and shipped Monday through Friday, within 1-3 business days of the order date.

We now shipping to EU by courier.

Duties and taxes calculated at the checkout.

Low international shipping rates.

No additional charges at delivery.

More information about shipping domestically and internationally is available at our website.
We stand by the quality of our products. Try our clean, vitamin-rich supplements - risk-free. You're going to love them.